Jack Wilshere Training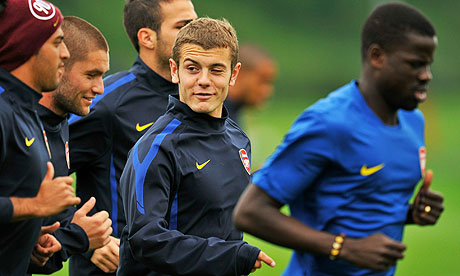 Jack Wilshere is 18 years old and is a starting player for Arsenal. He plays in front of 60,000 + fans at home and alongside some of the best players in the world. Jack is around 20 months older than me, I wonder if I'll play with or against him in the months and years to come. Perhaps I'll play against him in the 2014 world cup. These are all dreams and wishes, but it's what I strive for every single day when I go out on the pitch alone to train. All these hours of sometimes boring work by myself on the field near my house and in my back garden will pay off soon. Every single day my dribbles improve, my juggling becomes more skillful, my decision making becomes faster, the game becomes as fun as anything. But the question is when? When will I really get noticed and rewarded for my constant persistence over the last 12 months, trips back and forth to England, when will I really be noticed for my potential? Don't know when, but it will come.
Anyway, like I mentioned last week, I was on class trips from Monday to Thursday this week. I got in ten hours of practice. I watched a replay of Arsenal play Braga in the champions league and some of Arsenal's football just gave me like a football orgasm, it's amazing seeing the one-two attacking play they do, it's so entertaining and I just love to watch it. I try and add the things I see them do in my own game.
There's been something wrong with my finishing the last month or so. Before I used to be able to hit a 30 yard shot powerful and accurate into the back of the net, now it seems even a 12 yard shot is blasted over the bar. I don't know if it's a pair of new Adidas Adizero's I've been wearing the last month and a half that's effected it, but I'm starting to really think it is. Maybe it's something wrong with my mindset, from next week I'll hit each shot with conviction that the ball will go in.


Next Week
I will train a total of 25 hours next week to make up for lost hours by going to School trips. That's about all, It's 1am and I still have school work to do, gotta go.
P.S. Updated my about me page with new pics and info. I will also add old weekly reviews that I didn't type up because I kept them in a notebook this week.